Aerial Photography Collection
Until further notice, access to the Map Library is limited to library staff only.
For access to many of our maps, aerial photographs, and other physical materials, please search for the item in Libraries search. Sign in and place a "Get It" request and you can pick up items at one of our four open buildings — Wilson, Walter, Health Sciences, and Magrath libraries — or have them delivered to your office or residence hall.
For access to non-circulating materials or for in-depth research assistance, please send an email to mapref@umn.edu.
Choose one of the links below or click an area on the map for information about our Aerial Photo collection. For holdings information, please visit our Aerial Photography in the Borchert Map Library page.
Aerial Maps | Air Photos by county | Hennepin County suburbs | High Altitude | Indexes | Metro area enlargements | Negatives | Slides | USGS Statewide photos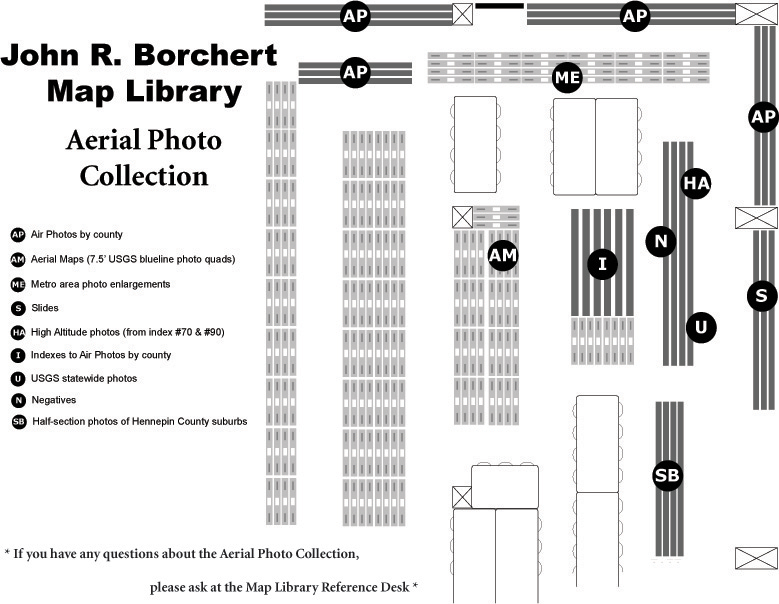 Aerial Maps
Full coverage for the State of Minnesota for 1968-69 and 1977-79, partial coverage for 1975-76; maps are blueline aerial photos at a scale of 1:24,000; indexes located in the first drawer of each set
Air Photos by county
| | |
| --- | --- |
| | Coverage for the State of Minnesota from the late 1930s to date; photos are primarily 9" x 9" black & white prints and are filed by county, then by year |
Half-section photos of Hennepin County suburbs
Detailed photos of Hennepin County suburbs dated variously between 1949 and 1967; arranged by suburb name
High Altitude Photos
Less detailed photos; coverage for the State of Minnesota for 1949-53 and 1968-69
Indexes to Air Photos by county
Index books for Air Photos by county; arranged alphabetically
Metropolitan area photo enlargements
Large photos of the seven-county metro area; photo dates range from 1958 to 1997; indexes located in the first drawer of each set or on top of the cases
Negatives
Large rolls of film negatives; may be viewed using equipment in the Map Library; currently no way to make copies from the negatives
Slides
Color 35mm slides for select counties dating from 1979 to 2000; partial coverage for some counties; slide scanner available in the ACIC for making digital copies
USGS statewide photos
Sporadic statewide coverage from the 1940s, 1950s, 1960s and 1970s