Borchert Map Library Collections
The John R. Borchert Map Library is one of the premier map libraries in the country. Choose one of the links below or click an area on the map for information about our collections.
Minnesota Collection | Aerial Photography & Maps | ACIC | Books & Atlases | Flat Folios | Foreign Topographic Maps | Gazetteers & Place Name Guides | General Reference | Periodicals | Thematic Maps | USGS Maps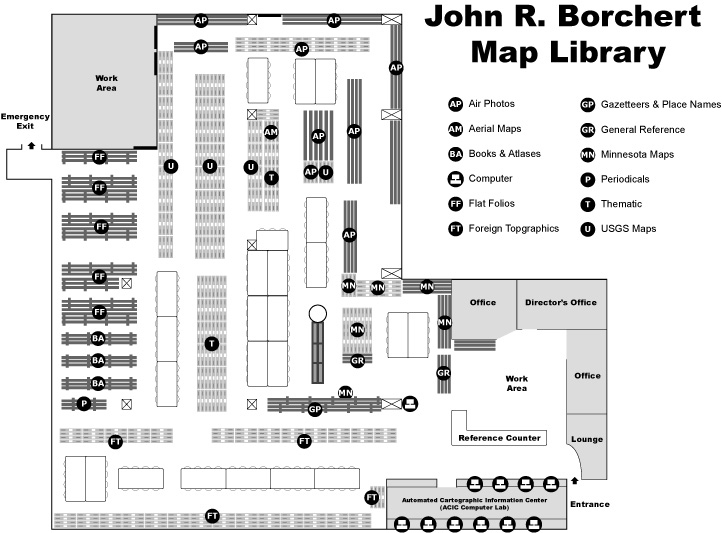 Minnesota Collection
Click on the image to view the layout of our Minnesota Collection...


Plat maps, topographic maps, books, atlases, place name guides, county highway maps, traffic maps and thematic maps of Minnesota, just to name a few...
For information on our Aerial Photographs of Minnesota, please see the Aerial Photography section of this page.

Aerial Photography & Maps
Click on the image to view the layout of our Aerial Photography Collection...


Coverage for the State of Minnesota from the late 1930s to date in paper, negative, 35mm slide and digital formats; please visit our Aerial Photography in the Borchert Map Library page for holdings information

Automated Cartographic Information Center (ACIC)
Click on the image for more information about the ACIC...


GIS data and electronic maps and atlases for various parts of the world, including Minnesota, foreign electronic map data, route-finding software, and educational data or examples associated with geography and GIS texts. Please visit our Resources Available in the Automated Cartographic Information Center (ACIC) page for a complete list of available materials

Books & Atlases
Click on the image to use Libraries Search...


Atlases and thematic atlases for all areas of the world, official national atlases, state atlases, GIS related books and more

Flat Folios
Click on the image to use Libraries Search...


Oversized atlases and thematic atlases for all areas of the world, official national atlases, state atlases, and more. PLEASE NOTE: These items do not circulate

Foreign Topographic Maps
Click on the image to use Libraries Search...


Topographic sets for most countries in various scales

Gazetteers & Place Name Guides
Click on the image to use Libraries Search...


Gazetteers, place name guides, basic cartographic and geographic glossaries and dictionaries

General Reference
Click on the image to use Libraries Search...


High-use non-Minnesota atlases, current and historic state atlases, current world atlases and thematic atlases

Periodicals
Click on the image to use Libraries Search...


Cartographic and GIS journals

Thematic Maps
Click on the image to use Libraries Search...


Non-Minnesota thematic maps, city maps for the United States and the world

USGS Maps
Click on the image for online access through the USGS Store...


Non-Minnesota U.S. Geological Survey topographic series in all scales